Radio Caroline - History
Radio Caroline's founder, Ronan O'Rahilly, was the rebellious son of a wealthy Irish businessman. His father, Aodhogan O'Rahilly had operated, amongst other ventures, the Preston-Greenore ferry service on behalf of British Railways and subsequently purchased the port of Greenore when that service was discontinued. O'Rahilly's grandfather had been killed while charging a British machine-gun post in Dublin during the 1916 Easter uprising.
Ronan himself had come to London in the late 1950s and joined an acting school- Studio 57. In the early 1960s he had also become involved in running the Scene Club in Great Windmill Street at the heart of London's Soho district promoting records for the Ric Gunnel Agency and managing groups such as Blues Incorporated, which at that time included Mick Jagger and Charlie Watts, later of the Rolling Stones.
Ronan O'Rahilly was working, without much success, to try and promote one of his artists, Georgie Fame, on the established radio stations - Radio Luxembourg and the BBC Light Programme. It has become an offshore radio legend that after a fruitless meeting in 1962 with senior executives of Radio Luxembourg in London O'Rahilly concluded that the only way to secure airtime for artists who were not signed up by the major record companies, was to start his own radio station.
Having explored and rejected for various reasons the possibility of hiring the transmitters of a foreign based broadcaster to launch his own radio station the idea of offshore radio appealed to him as a possible solution. Ronan O'Rahilly was aware of the concept of offshore radio stations - he had learned about the Voice of America ship Courier operating off the Greek coast and the hugely successful Dutch offshore station, Radio Veronica.
Allan Crawford (then planning Radio Atlanta) knew O'Rahilly through a group of mutual acquaintances and the offshore radio station idea was discussed by the two men. At that point O'Rahilly himself could not provide financial backing for Crawford, but took him to Ireland where he introduced him to his father and showed him the port of Greenore. During the course of this meeting with O'Rahilly's father Crawford made available the results of research he had carried out for Project Atlanta into the feasibility of operating an offshore radio project off the British coast.
Ronan O'Rahilly led Crawford to believe that both of them could co-operate and launch two offshore radio stations - one to serve the south east of England (operated by Crawford) and the other to serve northern England and Ireland (operated by O'Rahilly). However, O'Rahilly maintained a hidden agenda. Using the information in Crawford's market research material he set about raising funding to launch his station first and steal the lucrative London and south east England market from Crawford's Project Atlanta.
Project Atlanta had commissioned technical research documents and marketing profiles which showed the expected reception area and anticipated audience levels for a radio station anchored off the Essex coast. Armed with a copy of these documents O'Rahilly approached likely backers, conveying the impression that the research had been carried out for his o
wn station.
Eventually he managed to raise capital from English, Irish and Swiss sources to get the project started, using a holding company, Planet Productions Ltd. One backer was Jocelyn Stevens then owner of the influential glossy magazine Queen, whose offices in London's Fetter Lane were used as a temporary headquarters by Planet Productions Ltd. while the radio station project was launched.
Once sufficient funding had been arranged Ronan O'Rahilly engaged shipbrokers to find a suitable ship on which he could house the new radio station. Eventually, in Rotterdam they discovered a suitable vessel, an ex-Danish passenger ferry, Fredericia.
Planet Productions leased th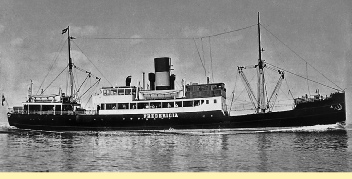 e vessel from a Swiss registered company - Alruane - and she sailed from Rotterdam on 13th February 1964 heading for Greenore in Ireland, the port owned by O'Rahilly's father. Because of the O'Rahilly family's control over the port work to equip the Fredericia (now re-named Caroline) for her new role could be carried out there in great secrecy.
Although the port's workforce kept silent about the nature of the ship's conversion it was not long before the town's residents noticed the huge aerial mast growing to its 165' height and the local newspaper sent a reporter down to Greenore to investigate the mystery ship.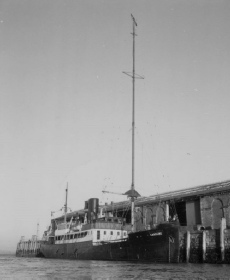 With natural Irish charm the O'Rahilly family circulated a story that the ship was a marine research vessel and needed the tall mast to help it search for deep sea sponges! Satisfied that he had obtained an explanation for the unusual work being carried out on the ship the reporter left Greenore and his paper printed the story.
So convincingly was this cover story put across that there was little further speculation about the true nature of the activity surrounding Caroline or of her future role. The later arrival of Allan Crawford's Mi Amigo to have a similar tall mast installed consequently raised few enquiries from local residents or the media, although once Radio Caroline had actually come on the air interest in the Mi Amigo at Greenore became more intense.