Although Radio Mercur's coverage was aimed at the Danish capital, Copenhagen, the station quickly became very popular in southern Sweden too, so in September 1958 experimental Swedish language broadcasts began under the call sign Skanes Radio Mercur.

At about the same time a Swedish freelance photographer, Nils-Eric Svensson, was accompanying a journalist from a Danish newspaper Kvallsposten to cover a story about Radio M

ercur. Encouraged by the success of the experimental Swedish language broadcasts from Radio Mercur, he explored the possibility of establishing a commercial radio station exclusively for Swedish listeners. Svensson, who had studied at the University of California in Los Angeles, and was familiar with American commercial radio subsequently registered a company, Skanes Radio Mercur with the declared objective of 'engaging in commercial radio broadcasting'.
Without a ship and transmitter of his own he planned to rent airtime from Radio Mercur (at times during the day when that station was not broadcasting) to provide a service for Swedish listeners. He negotiated an agreement with Ib Fogh of Radio Mercur and through a Lichtenstein based company he entered into an agreement to hire airtime and broadcast a minimum of three hours a day between 11.00am and 5.00pm when the Danish Radio Mercur was off the air.
Skanes Radio Mercur (Swedish Radio Mercur) officially opened on 14th December 1958, with programmes exclusively aimed at a Swedish audience.
In January 1959 a former 1940's Swedish beauty queen, Britt Wadner, who had recorded some commercials for the station the previous year and was working as a travelling salesperson, joined Skanes Radio Mercur as a sales representative. She later took over as Sales Mana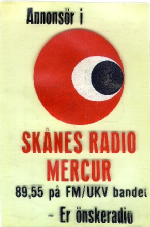 ger, with responsibility for obtaining new advertising contracts and from this small beginning Britt Wadner became a major figure in the history of Scandinavian offshore radio.
Skanes Radio Mercur continued to build its audience in Sweden throughout the early 1960's and by 1961 broadcasting had been increased from the original 4 hours a day to around 15. This was made possible technically by the installation of a second transmitter on the Radio Mercur ship, Cheeta 2, so that both Danish and Swedish services could be broadcast simultaneously. For a short period the station broadcast as 'Skanes Radio', but after a few months returned to the full call sign acknowledging its affiliation to Radio Mercur.
By October 1961, Sweden had two stations beaming programmes to its population - Skanes Radio Mercur in the south and Radio Nord anchored in the north off Stockholm and the Swedish authorities were engaged in talks with their Danish counterparts to find a way of jointly tackling the growing number of offshore radio stations.
In August 1961 when he realised that Scandinavian laws would close down the offshore broadcasters Nils-Eric Svensson decided to return to the USA to continue his studies in film and TV at the University of California (UCLA). He sold his interest in Skanes Radio Mercur to Sales Manager, Britt Wadner,
Mrs. Wadner intended to keep the Swedish language programmes on the air, but wanted to break away from hiring Radio Mercur's spare airtime and planned to start her own full time Swedish language offshore radio station directed at Malmo in southern Sweden.
Broadcasts from Skanes Radio Mercur ended in March 1962 shortly after Britt Wadner purchased the former Radio Mercur vessel Cheeta and launched Radio Syd.
Nils-Eric Svensson returned to Sweden in 1962 as head of marketing for the J Arthur Rank Organisation and later worked as an artists' manager and producer of musicals. He later moved back to the US where he started a company marketing mostly Swedish products and exporting American products to Europe. He never had any further contact with Radio Syd or Britt Wadner and he is one of the very few "radio pirates" still alive.