Almost There ! (2)
From the listeners' perspective
In the early 1960s the increasingly widespread availability of the portable transistor radio created a huge market audience wanting to listen to the latest pop music wherever they went, indoors or outdoors. Additionally the emergence of hundreds of new groups and artists in Britain, (including most notably The Beatles and Rolling Stones) and the spread of what became known as The Mersey Sound was producing a vibrant music scene which created a huge demand for pop music to be more generally available.
In Britain the BBC was still operating a policy of broadcasting live music by its own orchestras and dance bands rather than recorded material by well known artists, in part because of the restrictive agreements with The Musicians Union and the Performing Rights Society limiting the amount of 'needle time'. This resulted in very little opportunity for listeners to hear any of the hundreds of singles released by record companies each week.
The only other source of broadcast music, for listeners and record companies, was Radio Luxembourg. This station had itself undergone a transition in the mid 1950s when its evening broadcasts of light entertainment programmes had been threatened by the launch of commercial television in Britain.
Since its re-launch after World War 2 Radio Luxembourg's output had been based on sponsored shows, with programme content being dictated by the sponsor. For example a typical evening schedule would contain a number of 15 or 30 minute programmes such as "The Cliff Richard Show" (music), "The Sporting Challenge" (in which listener's questions about sporting achievements and records were put to Memory Man Leslie Welch), "Italy Sings" (Italian music), "Record Crop" (music), "Bringing Christ to the Nations" (religious broadcast) and "Spin With the Stars" (music).
In 1959 the station changed its output to target the newly identified 'teenage market' and dispensed with these light entertainment programmes, replacing them with pop music shows. One serious side effect of this change in policy was that sponsors became more difficult to find and in any event many of the larger advertisers had deserted to commercial television after its launch in 1955, taking with them programmes such as "Opportunity Knocks" and "Take Your Pick".
This void in sponsors was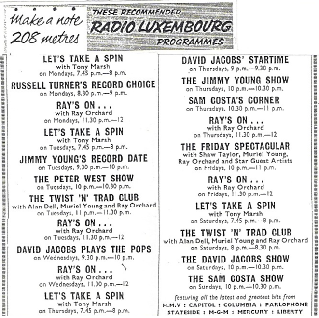 filled by Radio Luxembourg negotiating package deals with various record companies to buy large amounts of airtime on the station. The result was over 50 hours a week of chart music being broadcast to Britain in programme segments sponsored and produced by the major record companies. However, Radio Luxembourg's programmes could only be received during the evenings when the station faced severe competition from commercial television and the signal was subject to regular fading.
The emergence of a strong British music industry in the early 1960's forced the pace for the more widespread provision of pop music programmes on radio. The BBC did very little, if anything, to respond to this demand, relying on its outdated agreement with the Musicians Union restricting the amount of 'needle time' (time allocated to playing records during broadcasts) to 24 hours a week, spread over its three national networks. Radio Luxembourg tried to respond, but had its own problems - its sponsorship agreements with record companies effectively tied up most of its airtime, it was geographically isolated from the source of the new music revolution, still having no direct landline facilities between its London studios and the transmitters in Europe, and it only broadcast during the evening hours.
Into this scenario came a number of businessmen who saw a potential market for an all day pop music station and joined the lobby to introduce commercial radio to break the BBC monopoly. After the surprising - and incorrect - conclusion reached by the Pilkington Committee that there was no public demand for commercial radio these businessmen set about finding an alternative way of introducing commercial radio to Britain. They had witnessed the success of offshore radio projects in Scandinavia and The Netherlands in the late 1950s and early 1960s, so the time seemed right to launch an offshore radio station serving Britain.