Challenging the state monopolies (2)
Rapid Expansion
Another European broadcaster, Radio Luxembourg had been established in 1930 providing programmes in English, French, German, Dutch and Italian. In 1933 the station, started test transmissions dir
ected at Britain from its powerful transmitter in Junglinster and over the following months it continued to make these broadcasts on a number of wavelengths including 1250m, 1185m and 1191m. Regular English language programmes from this station were originally planned to commence on 4th June 1933, using a wavelength of 1191m in the long waveband. However, following complaints of interference and accusations (largely emanating from within the BBC) that it was pirating frequencies Radio Luxembourg delayed the introduction of its English language service.
When the UIR Lucerne frequency allocation agreement came into effect on 1st January 1934 Radio Luxembourg changed its wavelength to 1304m and almost immediately began regular broadcasts to Britain. By the late 1930s Radio Luxembourg's popular English language programmes were being broadcast on Sundays from 8.15am-12 midnight and at various times for up to eight hours each weekday.
Radio Luxembourg programmes were similar to those of the IBC affiliated stations in Europe and in the early years many were actually produced using IBC's London studio facilities. The IBC also obtained the concession to sell airtime on Radio Luxembourg's English service and early advertisers included national brands such as Bile Beans (a laxative), Zam Buck (an antiseptic cream) and the Irish Hospitals Sweepstake. This concession was terminated in 1936, however, when Radio Luxembourg decided to set up its own in-house sales organisation, Wireless Publicity Ltd.
Meanwhile in 1935 the IBC had formed its own production unit to record the growing number of sponsored programmes broadcast on various affiliated stations. The company's original studios were at 11 Hallam Street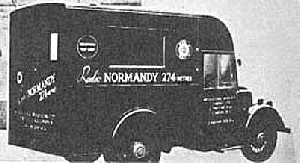 , London W1 and these soon expanded to adjacent properties at 8 and 9 Duchess Street. By 1937 the company had moved to larger premises on five floors at 37 Portland Place (near the BBC's then newly constructed headquarters, Broadcasting House) where it employed a staff of 180 people. It also had three outside broadcast vehicles which visited towns and seaside resorts throughout Britain recording programmes for later broadcast from the European transmitters. To deal with the vast interest in the Company's output the IBC Club was formed in 1932 and by the end of the decade it had achieved a membership of over 320,000.
As well as Radio Luxembourg and the IBC network a number of other European stations started broadcasts directed towards Britain including Radio Athlone (later Radio Eireann) in Ireland, Radio Cote de Azur in Spain and even Radio Ljubljana in Yugoslavia.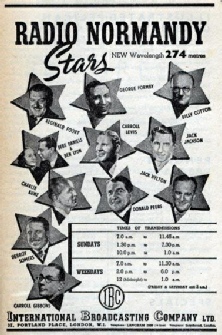 All these commercially funded broadcasts from Europe, which consisted mainly of popular music of the day presented in a friendly and informal style, were extremely popular with British audiences who preferred them to the staid and dull BBC output. The Survey of Listening to Sponsored Radio Programmes published in 1938 by the Joint Committee of the Incorporated Society of British Advertisers and the Institute of Incorporated Practitioners in Advertising, showed that Radio Luxembourg alone had a Sunday audience rating of 45.7% in Britain compared with the BBC's 35%. However, despite this high audience level for Radio Luxembourg some of the other, smaller European stations were not so successful in attracting sufficient advertising income and eventually discontinued their English language programming.
Government Response
The British Government's response to the commercial radio broadcasts from Europe was hostile. It made a number of representations through the Union Internationale de Radiophonie (UIR) about the alleged 'pirating' of a frequency by Radio Luxembourg, but could do nothing about the IBC transmissions from Radio Normandy and other European stations, because they broadcast quite legitimately on authorised frequencies. At the 1933 UIR Conference in Lucerne various countries, including Britain, tried to force Luxembourg to accept a medium wave frequency instead of its more powerful long wave one, but the tiny Principality refused to sign the agreement.
The only direct way that the authorities could strike at foreign based stations broadcasting to Britain was to refuse, through the General Post Office, to allow the use of telephone lines to relay programmes direct from London to the various transmitters in Europe. Consequently the stations had to record nearly all their programme material on large, 16 inch records (magnetic recording tape was not in general use in those days), which were then taken over to the Continent to be broadcast from the appropriate European transmitters. Later Radio Normandy installed two Western Electric 35mm cinema projectors and programmes were then recorded in London on the film soundtrack - giving superior sound quality and the ability to record full half hour shows on a single reel.
Another hostile reaction to the early commercial stations came in the form of a remarkable act of behind the scenes censorship by the British Government. It persuaded newspaper proprietors, mostly members of the Newspaper Publishers Association, not to publish information, especially programme schedules, about the commercial broadcasts directed at Britain.
Only one newspaper, the S

unday Referee, refused to comply with the Government's 'request' and continued to publish programme details for the European based commercial stations. For this defiance the paper was expelled from the Newspaper Publishers Association in February 1933.
It was hoped that lack of information about programmes and wavelengths would pr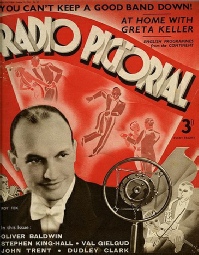 event listeners tuning in, but the broadcasters hit back by publishing their own magazine, Radio Pictorial. This weekly magazine, sub titled "the all-family radio paper", was first published on 19th January 1934 and contained detailed programme listings for each station, including the titles of records to be played during various programmes.
In 1939 the Sunday Referee closed and (apart from Radio Pictorial) the communist party newspaper, the Daily Worker, became the only British publication carrying Radio Luxembourg's programme details. The paper proudly proclaimed "No other daily newspaper in Britain gives the Luxembourg programmes. The Daily Worker is now able to fill that gap."
The British Government also exerted further pressure against the European based stations by encouraging the BBC not to employ any artist or presenter who had worked for Radio Luxembourg and persuading the British Phonographic Industry (later the Performing Rights Society) to increase the fees it charged to Radio Luxembourg - effectively forcing that station to pay much higher rates than the BBC.