Radio Caroline North - History (4)
The Cash Casino programme segments, hosted by Canadian DJ Bill Hearne, were taped at Caroline House and aired simultaneously on both the North and South ships. Each segment had a different sponsor and contained a new clue (in the form of a rhyming couplet) each day. Listener's answers were 'drawn' from a mail sack during each segment and £10 was added to the jackpot total for every incorrect answer drawn.
Other major sponsorship deals were also arranged by Terry Bate including "Lucky Birthday Bonanza" and "Partners in Profit" all of which gave Caroline, and in particular Caroline South, a far more commercially successful sound, generated much needed income and heightened audience awareness of the station.
In October 1966 a coal mining tip slipped and engulfed a primary school in the Welsh village of Aberfan killing 109 people, mostly young school children. An appeal was launched on Caroline North to raise funds for the victim's families - presented by Liverpool Labour MP, Bessie Braddock. The appeal was broadcast repeatedly in the days after the disaster and nearly £10,000 (equivalent to £160,000 today) was raised through donations from listeners.
Radio Caroline North had continued uninterrupted broadcasting throughout early 1966 and, apart from the loan of some DJs to assist with Caroline South test transmissions from the refurbished Mi Amigo in April, the station had remained relatively unscathed by all the troubles affecting her sister station. During the summer of 1966 plans were announced to increase the transmitter power of Caroline North to 50Kw and for a change in wavelength for the station to 259m, bringing it in line with Caroline South.
The practical difficulties of changing wavelength and increasing transmitter power while at the same time maintaining a normal daily programme service were tremendous. Radio Caroline North achieved both by closing its normal service on 199m at 8.30pm, 9.30pm or 10.00pm (depending on the day of the week and the number of sponsored religious programmes to be transmitted) and then re-opening again an hour later with test broadcasts on 259m. These tests continued throughout the night under the programme titles "West of Midnight" (an hour after normal closedown until 12 midnight) and "East of Midnight" (12 midnight until 5.55am). Normal programming then resumed at 6.00am on 199m.
These test transmissions started at the end of October 1966 and continued throughout November and into early December. A daytime test on the new frequency took place on 23rd November 1966 when the station's complete output from 1.10pm until 5.55am the following morning was on 259m, reverting to 199m at 6.00am on 24th November. The permanent change to the new wavelength was eventually achieved on Sunday 18th December 1966 and Radio Caroline North then joined her sister station broadcasting under the national call sign "Caroline on 259".
Yet another of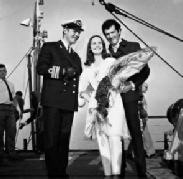 fshore radio 'first' was achieved by Radio Caroline North during September 1966 when one of the station's DJs, Mick Luvzit (Brown) was married on board the MV Caroline to Janet Teret, sister of another DJ, Ray Teret. The ceremony which was conducted by the Captain of the MV Caroline, Martin Gips, under Panamanian law (as that was the country of registration of the radioship) was broadcast live during the afternoon of 21st September 1966.
1967
In January 1967 it emerged that Radio Caroline was operating a 'payola' system for playing records outside its Top 50 chart. The station admitted that it charged £100 to play a new releases for 2 weeks and if after that time the record had not entered the Top 50 chart it was removed from the playlist. In contrast promotion of the station's own record label, Major Minor, which Philip Solomon had launched in November 1966, was increased from the initial one play per half hour to a point where by the middle of 1967 records released by the label's artists constituted a very significant proportion of overall programme content.
With the passing of the Marine etc. Broadcasting (Offences) Bill by Parliament on 30th June 1967 the offshore stations knew that they would either have to close or make elaborate alternative financial and staffing arrangements to circumvent the legislation and stay on the air.
In March 1967, Radio Caroline had asked its British staff to consider giving up their citizenship if they wished to remain with the station after the Marine etc. Broadcasting (Offences) Bill became law. The station also engaged more American and Canadian staff to enable it to continue broadcasting and made arrangements with a French public relations firm to secure advertising from various European sources. Meanwhile Terry Bate used his company in Toronto to try and secure advertising for the station from businesses in North America and an office was opened in Holland in May 1967, managed by South African Basil van Rensberg, to act as a new headquarters for the station after the British legislation had come into effect.